Five Trends that Will Shape the Affluent Consumer Market in 2015
Unity Marketing publishes a new report that describes the key trends shaping the market for luxury in 2015 and beyond
In 2015 the U.S. affluent consumer market will be more important than ever to luxury brands worldwide. But the affluent consumers who are the primary targets for luxury brands are changing. The affluents are experiencing changes in demographics, attitudes and values that will bring new opportunities, as well as challenges, to marketers trying to reach this consumer segment with the greatest spending power. Unity Marketing has just published a new trend report that tells the story of the five key trends that are shaping the future of the U.S. luxury consumer market. Download a free copy here.
Those five key trends shaping the U.S. luxury market are:
Affluents have new attitudes about their wealth and spending which translates into affluent austerity. This is bringing about…
A new style to express and enjoy luxury, which means…
Luxury brands have to tell a new story that resonates with affluent's new values and
The new ways affluents are shopping as …
Millennials gain traction in the luxury market demanindg new expectations and new experiences to the market for luxury.
Why the U.S. luxury market is the most important market in the world
The U.S. has more millionaires than in any country in the world, some 11.53 million according to the latest count by the Federal Reserve Board. That is eleven times more than the 1.05 millionaires than live in China. Their greater spending power makes the U.S. the largest market for luxury brands worldwide, some €62,5 billion in 2013, as reported by the Bain/Altagamma study of the global luxury market, which is nearly 3.5 times larger than Japan, the next largest market.
Wealth and spending power is concentrated globally in the U.S., but the affluent don't feel that well-off which puts the brakes on extravagant spending that luxury often represents. When it comes to purchasing luxury, how the affluents feel about their wealth, not what their financial balance sheet reports, is what counts. Today those with incomes of $250,000, which means they are doing better than roughly 2% of all U.S. households, feel middle-class, and they are spending accordingly. They certainly don't feel luxury class.
Understanding the affluents in 2015
Income demographics define the affluent consumer segment. Today's affluent consumers, those with incomes of $100,000 and above or roughly the top 20% of the 123 million U.S. households, have largely recovered from the recession and have plenty of cash on hand to spend. But they are being more selective, more pragmatic, more demanding and careful about what luxuries they buy and how much they spend.
Overall there are some 27.6 million affluent households with an average income of $221,000, according to the latest Census Bureau estimate. Within that group, there are two segments defined by income:
HENRYs (High-Earners-Not-Rich-Yet) or the mass affluent with incomes $100,000-$249,999. HENRYs number some 24.3 million households.
Ultra-affluents with incomes $250,000 and above, which include 3.3 million households, with an average income of $411,160.
Creating opportunity for marketers is that the ranks of the affluent consumer segment is growing far faster than that of any other income segment since 2010. And the highest-income ultra-affluent segment grew by nearly 33%, as compared with the 2.5% rate of growth of households overall.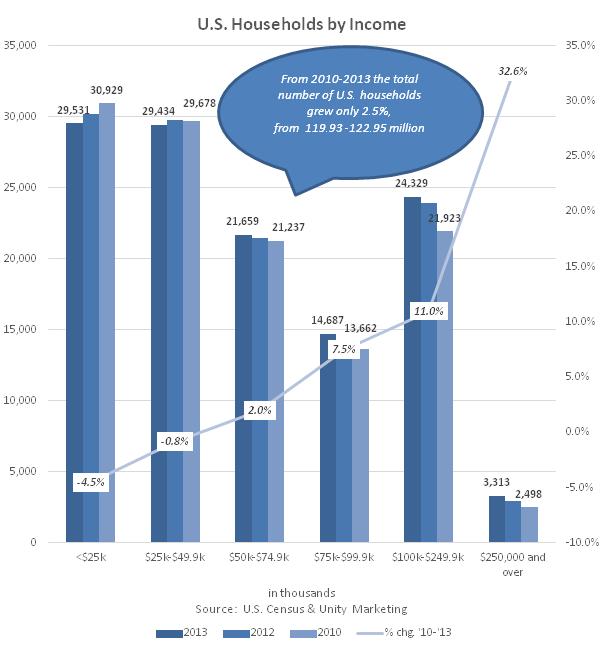 With their numbers growing so rapidly, the affluents' influence on the consumer economy is also on the rise for marketers at all price levels, high-end, low-end and in the middle. While they make up only about 20% of total households, the affluents account for more than 40% of all consumer spending, as reported by the Labor Department's Consumer Expenditure Survey.
Net/Net: The affluents are twice as important to the U.S. economy than any other income group. These are the most financially empowered customers and the one's that count most to all marketers, from mass to 'luxury class.'
The new trend report, Five Luxe Trends for 2015, provides insights and understanding that will guide luxury marketers, indeed all marketers, who sell to the affluents. "Marketers must understand who the affluent consumers are and the values they bring into the marketplace for consumer goods and services," Pam Danziger, president of Unity Marketing and author of the new trend report says.
"The affluents worked hard to accumulate their wealth and financial status and aren't about to let indulgent spending and giving into consumer temptation threaten that status. They hold management positions in business and are the highest performers in their chosen professions. They are the best-informed customers, aware of what's happening on Wall Street, as well as 'main street.' They follow economic trends, government policies and trends impacting business. Financial security is a primary concern, so affluents are demanding more value when they spend. This new report is filled with ideas and insights that will help marketers connect with the affluents in 2015 and beyond."
Download a free copy of the trend report, Five Luxe Trends for 2015.